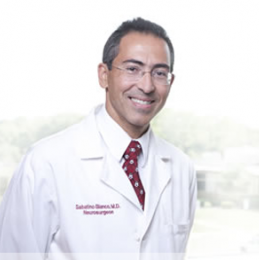 Specialty:
Neurosurgery
Spine
Address:
Main Office:
1001 Waldrop Drive
Suite 403
Arlington, TX 76012
Clearfork Location:
5450 Clearfork Main Street
Suite 230
Fort Worth, TX 76017
Dr. Bianco is board certified by the American Board of Neurological Surgery. He completed a European residency program in Genoa, Italy and an American residency program at Wake Forest University in Winston-Salem, NC. He spent a year in Pittsburgh completing a fellowship.
Dr. Bianco uses the latest endoscopic, minimally invasive skull base, and minimally invasive spine techniques. It is very seldom that you find the entire spectrum of spine and brain skills in a single surgeon's repertoire. Dr. Bianco is actively engaged in developing novel spine techniques and instrumentation to minimize patient pain and discomfort after spinal surgery. Furthermore, he is actively engaged in brain tumor research.
Dr. Bianco has pioneered many brain and spine techniques. It was during his medical school 20 years ago that he made the firm decision to dedicate his professional life to the development and implementation of minimally invasive brain and spinal surgical techniques that have made a significant improvement in patient outcomes and overall surgical satisfaction. He was one of the first in the world to write a thesis about neuroendoscopy in 1995. Dr. Bianco's philosophy is to provide the least invasive approach while achieving maximum success during a brain or spinal surgical procedure.
---